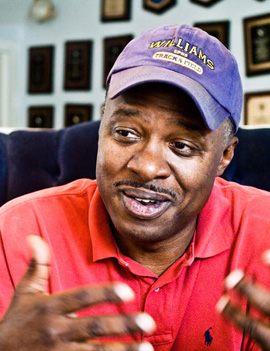 JAZZ FESTIVAL RETURNS WITH HEALING, HOPPING RHYTHMS
Dr. Kenneth Alleyne, 46, and his wife, Dr. Shaun Biggers-Alleyne, love jazz. They also love Martha's Vineyard. So they began brainstorming a way to combine these seemingly disparate passions. The result was Jazz on the Vineyard, a daylong jazz festival now in its second year, which will be held tomorrow, August 18, at Featherstone Center for the Arts in Oak Bluffs.
When planning the event the Alleynes wondered how readily people would "burn a beach day" on jazz music. As an added incentive they founded Student Achievement through Opportunity (SATO), a nonprofit organization aimed at narrowing the "opportunity gap" for students in Dr. Alleyne's hometown of Hartford, Conn. This way audience members can enjoy the music while simultaneously supporting underprivileged youth.
The group's focus is on underprivileged middle school children, black and Hispanic, who attend charter schools in the Hartford area. SATO works with charter schools to bring academic and cultural enrichment opportunities to students, as well as exposure to college.
"A lot of them are the first in their family to have a shot at college," Mr. Alleyne said. "So no one around them can tell them what it's like. No one who lives left or right of you knows what it is to go to college."
Many students' default role models are athletes, Dr. Alleyne said, but those dreams are unrealistic for most. "There's a much greater likelihood that they will become orthopedic surgeons, litigators, newspaper reporters or photographers than an NFL superstar." Dr. Alleyne is an orthopedic doctor and his wife is a gynecologist.
"It's really about exposing these children to a large universe outside of themselves," he said. "To learn that there's this guy Louis Armstrong who grew up in New Orleans, in an environment not dissimilar to theirs, and became a very successful person . . . It's about going to an opera, or seeing a painting by Caravaggio. It's about exposing these kids to a broader story of the world."
The concert is the organization's primary source of revenue, along with corporate underwriting. Wendell Pierce, an actor who played detective Bunk Moreland in The Wire and also stars in Tremé on HBO, will emcee the event. Mr. Pierce is also the host of the public radio program Jazz at Lincoln Center.
The festival will feature a variety of jazz artists, performing in three acts. The first act will be a performance by Meeting of the Minds Quartet with trumpeter-composer Ambrose Akinmusire, pianist Robert Glasper, bassist Derrick Hodge and drummer Kendrick Scott. Robert Glasper, who Mr. Alleyne calls "an amazing innovator and thinker," blends genres in his music, including jazz, hip-hop, R& B and rock.
The second act is Tuck & Patti, a husband and wife jazz duo, performing in their first gig on the Island. Tuck Andress and Patti Cathcart will play music from their repertoire including "some Jimmy Hendrix, some bop tunes, and some R& B tunes," Ms. Cathcart said. The last act will feature Brandee Younger, a jazz harpist, and bassist Dezron Douglass.
"It's an amazing day of music," Mr. Alleyne said. "It's a great cause . . . and you're helping the country move towards our better selves."
The organization hopes to raise $15,000 to $20,000 from festival ticket sales, with additional support from corporate sponsors.
Jazz on the Vineyard Festival is from noon to 6 p.m. at Featherstone Center for the Arts in Oak Bluffs. Doors open 11 a.m. Bring blankets and chairs, some food available from Tea Lane Caterers. Cost is $75 for adults; kids free. Call 888-565-9397 or e-mail info@jazzonthevineyard.org. Bring a blanket and chairs, and water.
Source: http://vineyardgazette.com/news/2012/08/16/jazz-festival-returns-healing-hopping-rhythms?k=vg551b18d72fbdb&r=1